Jacksonville Disability Lawyer
At The Law Office of Jessica Dumas, we care about our clients. Every day, we see the devastating effects disability can have on an individual's personal life, work life, and family life. We are committed to making the difficult process of seeking Social Security disability easier. Since 2000, we have worked to help our clients secure benefits to protect their quality of life. The benefits include monthly income through Social Security Disability Insurance and/or Supplemental Security Income and health coverage through Medicaid or Medicare.
Mission Statement
Our mission is to provide exceptional service as Advocates for the disabled by demonstrating compassion, competence and a commitment to changing lives for the better.
Meet Our Team
Jessica Dumas, Attorney
Jessica Dumas is originally from Northern Virginia near Washington DC. She moved to Florida during her high school years. Jessica received a Bachelor's Degree in Psychology from the University of Florida and went on to study law at St. Louis University, receiving her law degree in 1992. Jessica began representing Social Security Disability claimants during a law school internship, a pursuit she found so fulfilling it became her chosen area of practice. Jessica has devoted her legal career to helping people in need of disability. She has exclusively practiced disability law for over 20 years.
Jessica is a former Board Member/Officer of Mission House, a homeless facility in Jacksonville Beach. Jessica has also been a volunteer at the Sulzbacher Center, a homeless shelter in Jacksonville.
Jessica is a member of the Jacksonville Bar Association, the Jacksonville Beach Bar Association and the National Organization of Social Security Claimant's Representatives (NOSSCR). She is the former chair of the Jacksonville Bar Association Social Security Committee. She is admitted to practice in the state of Florida and in Federal District Court in the Middle District of Florida. Jessica is a former recipient of the Florida Bar Presidents' Pro Bono Award and Jacksonville Area Legal Aid's Pro Bono Award. Jessica has made the Jacksonville Beaches her home, since returning from college, where she continues to reside with her husband and son.
Corinne Murrell, Associate Attorney
Corinne has been with us since she was a junior at Fletcher High School. We reached out to the director of their law program, Ed Lange, and he highly recommended her for the job. We could not be any happier! Corinne was a member of the Mock Trial team in high school while working here and participated in state and international level tournaments. She went on to graduate with honors from the University of North Florida where she majored in political science, and then Florida State University College of Law where she received her Juris Doctorate. Corinne happily makes herself available clients to ensure that any questions are answered in a timely manner because she understands the stressful nature of the process. She worked from the ground up at the firm and has a thorough understanding of how a case progresses from start to finish. She has truly found her passion helping those who need it most. When she is not working, Corinne enjoys watching football, coaching mock trial at Fletcher, traveling, and taking time to relax.
Michelle Friedner, Office Manager/ Paralegal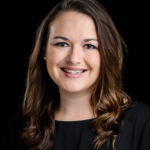 Michelle works as our Office Manager/Paralegal. Before joining Jessica Dumas, she worked for seven years in the medical records department at St. Vincent's Medical Center. She assists in developing cases for hearing and collecting medical records. She also manages Appeals Council and Federal cases. Michelle's intimate knowledge of the entire Social Security process and her meticulous attention to detail make her an invaluable member of the team. She has been with Jessica since 2009 and has earned a paralegal degree from Florida State College at Jacksonville. She spends her spare time hitting the beach and enjoying time with her husband and three children.
Jenna Jonassen, Paralegal
Jenna completed her juris doctorate at Touro College Jacob D. Fuchsberg Law Center in New York on a part-time basis while being employed as a paralegal full-time. She was a member of Touro Law Review's editorial board and had the honor of publishing an article regarding the Fourth Amendment implications of cell-site simulators. She graduated Summa Cum Laude and as salutatorian of the part-time program, and received numerous CALI Awards for academic excellence.
Jenna has worked for various reputable law firms specializing in Social Security disability benefits, handling all aspects of the claim process from initial intake to the hearing level before Administrative Law Judges. She has extensive experience handling court claims at the Federal District level, as well as dealing with claimant issues involving concurrent Workers' Compensation claims.
Jenna enjoys her field of practice most because she able to assist others in obtaining the benefits that they deserve following traumatic and sometimes life-long disabilities and illnesses. She enjoys being able to make people feel comfortable and confident in the disability process, even when they feel their worst. On her free time, Jenna enjoys watching hockey and being a mom to her fur-baby, Harley!
Kayla Williamson, Senior Legal Assistant
Kayla joined our firm in December of 2015 as a senior Legal Assistant. She grew up in Jacksonville and went to high school at Douglas Anderson School of the Arts. Kayla graduated from Florida State College at Jacksonville with a Bachelor's Degree in Human Services, a major she chose because she is committed to making the world a better place. Working with our clients has confirmed Kayla's commitment to and passion for helping people. She is known at the firm for going above and beyond for our clients. Kayla teaches gymnastics and enjoys traveling and spending time with friends and family in her free time.
Sara Bratton, Administrative Assistant
Sara was born and raised in Dallas, TX, where she met and married her husband of 25 years. For 20 years, Sara supported her husband's Coast Guard career over four states, finally settling in Florida in 2008. Together they raised their beautiful daughter. Sara has previously worked in the medical field as a patient advocate. Through this work, she acquired a deep sense of compassion for those unable to care for themselves. It's this sense of compassion that makes Sara invaluable to our firm and our clients. Sara enjoys singing in her church and running 5Ks with her husband in her spare time.